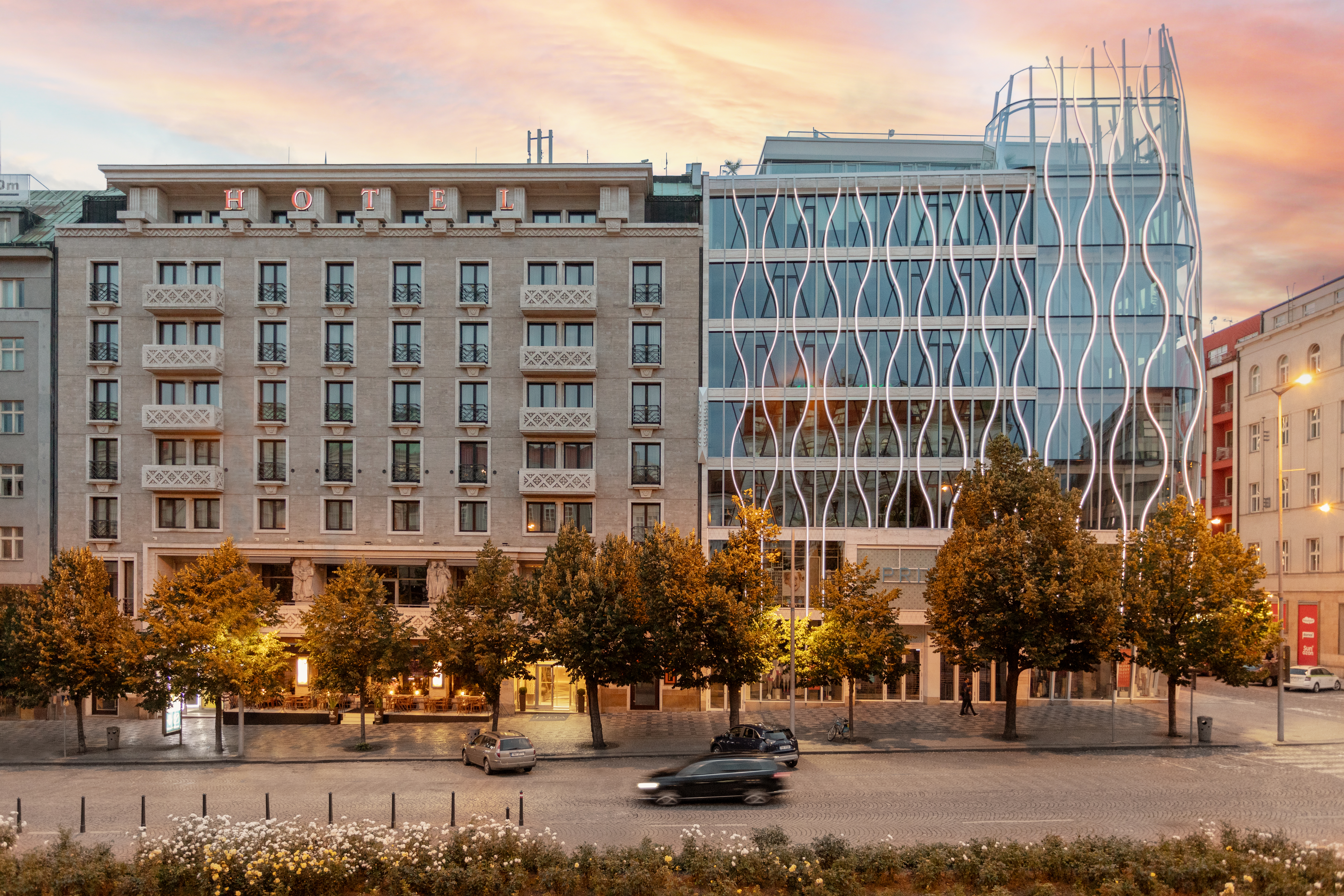 GENERAL DESIGN
The Flow Building is a state of the art 21ˢᵗ century design landmark building of the highest specification benefitting from large flexible floorplates and an abundance of natural daylight
ENERGY EFFICIENCY
The building has been designed to incorporate passive technology to reduce client energy consumption. The Flow Building achieved BREEAM Outstanding rating. More information can be found at www.breeam.com

REDUCTION IN ENERGY USE AND CO₂ EMISSIONS
Passive design measures have been used to reduce the overall building energy demand and CO₂ emissions
ENERGY SAVING MEASURES INCLUDE:
Air source heat pump technology
High performance triple glazed facade to reduce internal summer heat gains and winter heat loss
Intelligent external louvers
Energy efficient vertical transportation systems
Intelligent LED lighting
Zoned thermal control
Comprehensive metering strategy
FAÇADE
The striking façade reaches out over the pavement and uses a complex 3 dimensional modular system to achieve a continuous curved surface.
The design incorporates parametrically controlled solar shading and openable windows to ensure the optimum internal environment and to meet the requirements of its most demanding clients. The main corner features a double skin façade construction that further reduces the impact of solar gain and noise.
STRUCTURE
Reinforced concrete frame
The floors generally have clear spans of 8.1m x 8.1m
FLOOR LOADINGS
All office floors: 2.5 kN/m² + 1.0 kN/m² (partitions) + 0.85 kN/m² (finishes and services)
All retail floors: 5 kN/m²) + 0.85 kN/m² (finishes and services)
VERTICAL TRANSPORT
LIFTS
The building has four intelligent passenger lifts
DCS (destination control system) lifts where passenger's floor destination is pre-registered and lift is called when passenger enters through the main lobby turnstiles
Each lift has a loading capacity for 21 people with a maximum speed of 2 m/s
ELECTRICAL SERVICES
BACKUP ELECTRICAL SUPPLY
2× transformer 22/0,4 kV, 1600 kVA
BACKUP ELECTRICAL SUPPLY:
Diesel generator 660 kVA (530kW) is serving firefighting services, emergency lights, emergency ventilation, emergency cooling and heating, backup power for offices, lifts and BMS
FIRE DETECTION
In compliance with the highest safety standards
Fire Detection Systems and Alarms (EPS) and sprinklers

SECURITY
CCTV within all public areas – entrance lobby, parking, loading bay, lift lobbies, entrances
Security gates at reception
Intelligent access system
VEHICULAR ACCESS PROVISION
PUBLIC TRANSPORT
The building has excellent access to public transport (metro and tram routes)
CAR PARKING
129 secure parking spaces in 2 underground levels including 50 recharging stations for electric vehicles
CYCLE STORAGE AND CYCLIST FACILITIES
Secure cycle storage is provided with adjacent changing rooms and showers.
INTERNAL FINISHES
ENTRANCE HALL AND RECEPTION
The impressive 8m double height reception area leading into the lift lobby follows a minimal yet luxurious feel, using large-scale natural stones, lavish metals, warm wooden tones, and striking green features
OFFICES
Raised access flooring (150mm overall), VRV units, intelligent LED lighting throughout, within client flexible floor plates with up to 7 possible kitchen and toilet locations on each floor
MECHANICAL SERVICES
AIR CONDITIONING / HEAT PUMP
VRV heat pump air conditioning system with individual measuring systems. Central fresh air and extract services on each floor
OCCUPANCY RATE
Generally, 1 person per 10 m²
FRESH AIR SUPPLY
35 m3 per hour per person

SUSTAINABILITY
GREEN BUILDING CERTIFICATION
The development achieved a BREEAM Outstanding rating. More information can be found at www.breeam.com
Key considerations:
Health & wellbeing of building users
Energy efficiency and CO2 emissions
Water conservation
Barrier-free access
Inclusive and accessible design
Cycle storage and cyclist facilities
Electric recharging stations
Comprehensive energy and water metering
Recyclable waste management